With apologies to Rudyard Kipling and The Elephants Child, my intent is to design illustrated books for those "with 'satiable curtiosity."  Simple and sometimes unadorned, but thoughtfully creative book designs hide a treasury of illustrations within.
 The Library is Open.
The Secret Place is meant  to be neither evocative of any one place nor a compendium of past memories.   If anything, the images created for this book reflect an indistinct quality such as might come from a mirage and are meant to embody many secret places I have visited in both reality and in my dreams and so in a sense, belong to me and me alone to visit again and again.   Unlike my other books, I did not use a sketchbook to plan my images.  The ten panels of primed linen canvas were bound together before the work commenced and the unfolding panorama was created strictly from memories and my imagination in three days using India Ink and dry brush and split brush techniques.
Colophon:
Primed Linen Canvas wrapped on book board 
Illustrations: India Ink 
Cover: Jute fabric and Unryu paper with split bamboo
This work is unique:  Price $1500
Bound together as one, two distinct conversations occur in this collection of sketches.  The first, concerns the transformation in Washington State of the Nisqually Delta, from farmland back to its original salt marsh.  The second conversation, inspired by Franz Kafka's original work, The Metamorphosis is not meant to be taken as a literal interpretation of Kafka's work.
In a short time, tidal surges created an altered world populated by anthropomorphic creatures and golems made from tidal mud, dying shrubs and decaying organic matter.  Are we looking at a mythical race of shamans striding purposefully across the water, a macabre bestiary, mutated insects, or perhaps all three at once?  True to Kafka's adamant demand the insect never be pictured, it is not until the end that the final transformation becomes clearer, and even then the insectile form, hinted at in almost all of the 65 sketches, has been left ambiguous.
Colophon
Cover: Hardbound: Cotton and linen cloth
Paper: Abaca
Sketches: Dip pen & India ink
Fonts: 1946 Smith Corona Portable Typewriter;
Vintage 1911 Excelsior Rubber Stamps
This work is unique.  Price: $1200
 Playing Hide and Go Seek in the Dark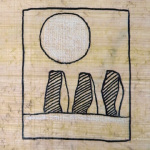 It was a dark and stormy night….Wrong story, but apt.  An eclectic collection of memories and observations, this is a work in progress, currently comprising approximately 40 stories typed with the same 1946 Smith Corona Silent typewriter my father used in high school.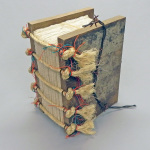 Typed onto Egyptian papayrii and  bound into ten codices made from rustic handmade paper, the stories are housed between two pieces of weathered board Coptic style and held by tension with the aid of two vintage gate latches. Naturally, barbed wire graces the front cover. This is a unique work, but don't despair.  The stories will be posted from time to time on the blog page of this website. 
Colophon:
Font: 1946 Smith Corona Portable Typewriter  Cover: Coptic style bound cover of aged wood and manila hemp with barbed wire 
Paper: Egyptian papyrus and handmade paper, made in the artist's studio. 
This work is unique.  Price: Sold

 Extraordinary Popular Delusions
& the
Madness of Crows
A bound collection of over 117 original illustrations celebrating the enigmatic crow and made possible by a TAIP grant from the Tacoma Art Commission.  The Book of Kells, and the work of William Morris at Kelmscott Press, amongst other sources inspired this body of work.  Available in two sizes each in a limited edition of only 50, each handmade book and accompanying wooden box are made using different materials and with varying binding techniques including Coptic, post, long
stitch and many others.  The intent is that no two books or boxes are alike.
Small Book: $750
Large Book: $1000
Colophon:
©2013 Mark Hoppmann
India ink, conte, graphite
90# Canson Classic Cream ®
Epson WF-5710 Inkjet
Durabright ®  Archival Inks
Cover: Assorted materials, including leather, papyrus,  &Belgian Linen
Boxes: Distressed wood and various materials, including, vintage hinges, hemp, glass, and tile.
Currently in private collections, and the rare book collections of The Ringling College of Art and Design, Emory University, and the Savannah College of Art and Design, this work is represented by Vamp and Tramp Booksellers LTD  
A Journey
A Journey is a bound portfolio of 26 illustrations.   As the title suggests, it is a chronicle of one person's passage; one of discovery and interaction, from an early moment of awareness to a moment when one is ready to embark on a new path even if they are unsure what that path should be or where it will lead them.   More importantly, the illustrations explore the complex relationship between intellectual curiosity and artistic experimentation and expression influenced by those early discoveries. 
Colophon:
©2012Mark Hoppmann
India Ink, Graphite, White Conte
100# Stonehenge ® paper
Cover: raw Belgian Linen, hand brushed metallic Indian paper.
Price: SOLD
A is for Alien
handmade, hardcover, abecedarian book with over 52 original illustrations rendered in India ink and dip pen, accompanied by graphite, conte crayon, and colored pencil.  Scanned and output on an Epson WF-7510 inkjet printer with archival inks.   The resulting signatures are hand stitched and mounted into a hardbound cover, created from a variety of papers and materials, making each book unique. The end pages were created by scanning an image into the computer and replicated to create a series of images marching to infinity.   Currently in the rare book and artist book collections of the University of Puget Sound, The Ringling College of Art & Design, and others.  Represented by Vamp and Tramp Booksellers LTD or contact the artist. 
Colophon:


©2012 Mark Hoppmann
Original Illustrations: India Ink, Conte, Graphite, Colored Pencil
Epson WF-7510 Inkjet Printer
Format:  Hardcover, Butterfly Book
Covers: Various Papers and bookcloths
$85.00
Thirteen Ways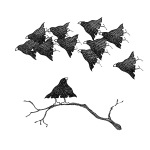 A signed, limited edition of 100 books created in collaboration with musicians Sean Osborn,  Rajan Krishnaswami and others of simplemeasures.org.   The illustrations, created using a dip pen and India ink, are the artist's interpretation of Wallace Stevens' Thirteen Ways of Looking a Blackbird, a collection of poems first published in 1917.   The books and original illustrations were first exhibited  in April, 2010 in Seattle, Washington during a performance by simplemeasures.org of Thomas Albert's Thirteen Ways of Looking at a Blackbird based on the poetry of Wallace Stevens. Contact the artist for price and availability.
Colophon:
Thirteen Ways ©2010 Mark Hoppmann
Signed, numbered edition of 100
HP-960 inkjet printer
Hand sewn with illustrated hard bound cover
Only a few books are still available.  Price: $30.00
Twelve Days



Twelve Days is not the Twelve Days of Christmas your grandmother read to you when you were a child.  Rewritten and illustrated as only the artist could,in India Ink and a dip pen, Twelve Days will make you laugh…or maybe cringe.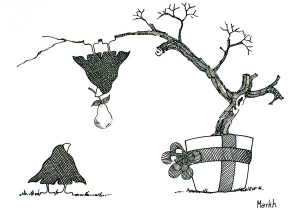 Colophon:
Twelve Days ©2011 Mark Hoppmann
Original Illustrations: India ink
Printed with an HP-960 inkjet
Covers: Rustice Handmade paper bound with willow and raffia
$30.00
For inquiries, contact the artist at
mark@markhoppmannart.com
or leave a comment below.